Attractiveness 5

Apple Pay registration
Apple Pay is now more attractive because it supports Costco Global Card. Since it is contactless, it is not necessary to touch a button or exchange cash for a payment at a store. It is safe and easy.
Even if you are yet to use contactless payment by Apple Pay, you can set it easily. Please open the Wallet app in iPhone, tap the "+" mark at the top right, and follow the displayed procedure. If you want to use Apple Pay with Apple Watch, you can set the Apple Watch app in your iPhone.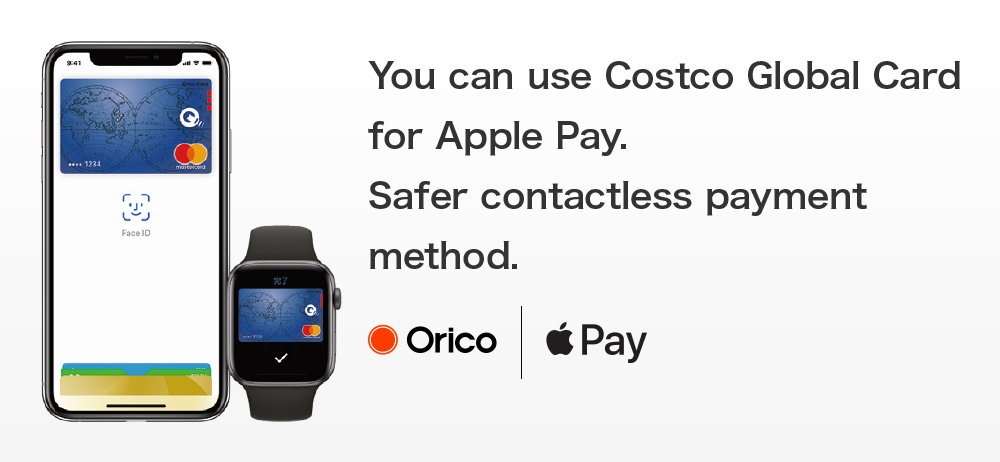 TM and © 2020 Apple Inc. All rights reserved.
Apple, the logo of Apple, Apple Pay, Apple Watch, Face ID, iPad, iPhone, Mac, and Safari are trademarks of Apple Inc.
The trademark of iPhone is used based on the license of Aiphone Co., Ltd.
You can use Costco Global Card for Apple Pay
You can use it at stores with a "QUICPay™" mark.
You can use Apple Pay at familiar stores such as convenience stores and drug stores around Japan.
*

You cannot use it at Costco warehouse stores.
Products and stores which support Apple Pay


From nearby convenience stores, supermarkets, and drugstores to leisure and entertainment facilities, taxies, and vending machines.
You can use it and get points at QUICPay member stores around Japan.
Registration and setting method of Apple Pay
Application (online registration)