Corporate Information
Settlement and guarantee

We engage in the settlement and guarantee business addressing various corporate needs in the business-to-business market, including rent guarantees and accounts receivables settlement guarantees.
Business support
With respect to its business-to-business settlement services, the small business market, and new settlement operations, Orico has been working to expand into more fields of business leveraging its proprietary expertise in various domains.
Seeking a greater range of possibilities in fields of business
Orico can handle office equipment lease and telecommunications equipment lease.
Partnership leases
In April 2015, we established "Orico Business Leasing Co., Ltd." as a joint venture company that specializes in vendor leases (partnership leases) combining the experience and expertise of Orico in consumer credit with the abundant expertise of Tokyo Century Corporation in lease operations. Orico Business Leasing meticulously addresses the diverse needs of customers and distributors (vendors) acting as a company dedicated to vendor leasing that mainly deals with relatively low-priced equipment and devices used by small and medium enterprises.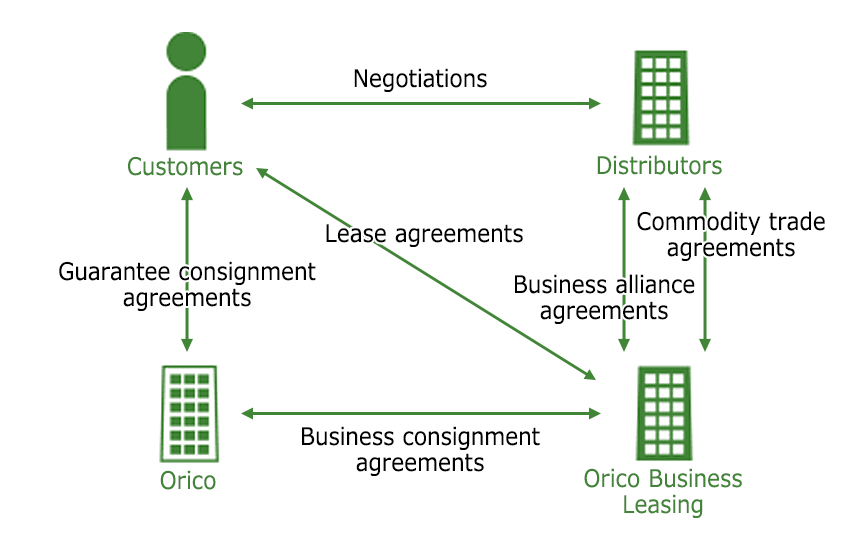 Reducing exposure to risk with respect to business-to-business transactions and enhancing administrative efficiency
B2B settlement services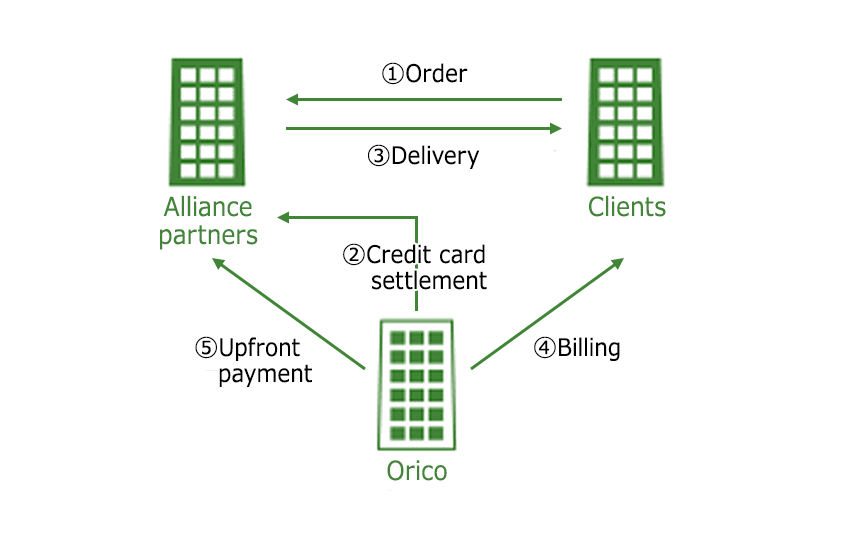 A type of using card issued by Orico
Orico makes upfront payment in full to an alliance partner on behalf of a small-scale client (corporations and individual business owners), upon having issued a card for purchases in conjunction with the alliance partner to the customer. Cashless payment reduces burdens of cash management and decreases exposure to risk.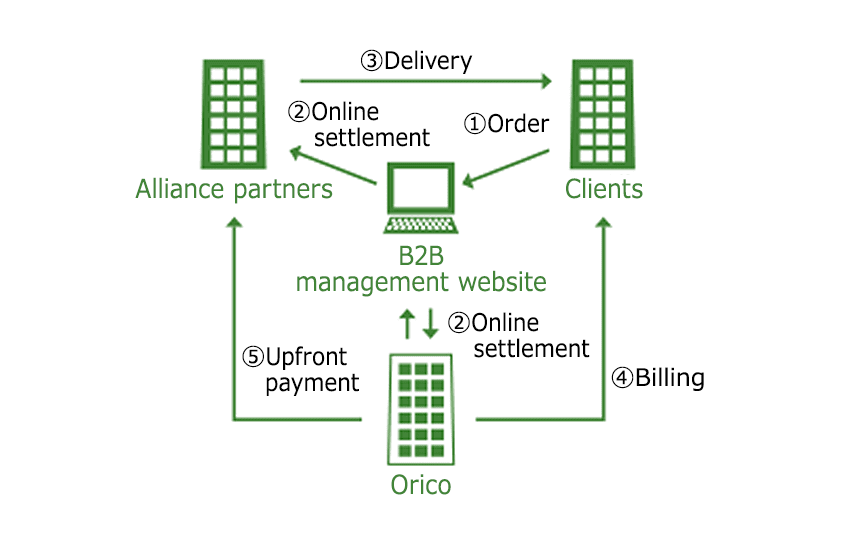 Cardless
Orico provides settlement services specifically for business-to-business transactions, particularly using the Internet. A website specifically for our alliance partners enables solutions that facilitate swift payments with respect to e-commerce transactions.
Support for ensuring flexibility in sourcing working capital
Orico Business Support Plan
We offer general-purpose business loan products to Orico member stores and to corporations and independent business owners who use Orico Credit. We offer two types of general-purpose business loans.
Loan-on-deed
Under this type of loan, borrowers enter into a loan-on-deed agreement each time they apply for a loan. This type of loan provides support for a wide range of financing needs.
A type of credit line
Under this type of financing, borrowers set up a "credit line" beforehand for the amount they will be allowed to borrow at the time when they apply for a loan. The applicant may then repeatedly take out small loans to cover their financing needs, up to the maximum amount provided for in their credit line.
Fee collection
We offer sophisticated settlement services geared to addressing various client needs, ranging from real estate leasing, data communications, telephone communications, gas utilities and other lifeline services, to use of services such as those of fitness clubs, pay-per-view TV, and online content.
Support for greater volume of business involving managed properties
Services for guaranteeing fee collection
Orico significantly enhancing administrative efficiency of rental business operations
Three-way service (Sumairu Partner)
For real estate management companies

We assume full operations above and beyond collection of funds, ranging from management of overdue accounts to tracking information.
Orico guarantees upfront payment of rental income for a certain time period when accounts are in arrears.
This service eliminates risk of uncollectable receivables and drastically improves administrative efficiency.

For customers

This service facilitates efforts to manage household finances because customers are able to use their Orico Card, upon issuance, to make lump-sum payments to cover various charges.
Customers efficiently earn reward points corresponding to card use.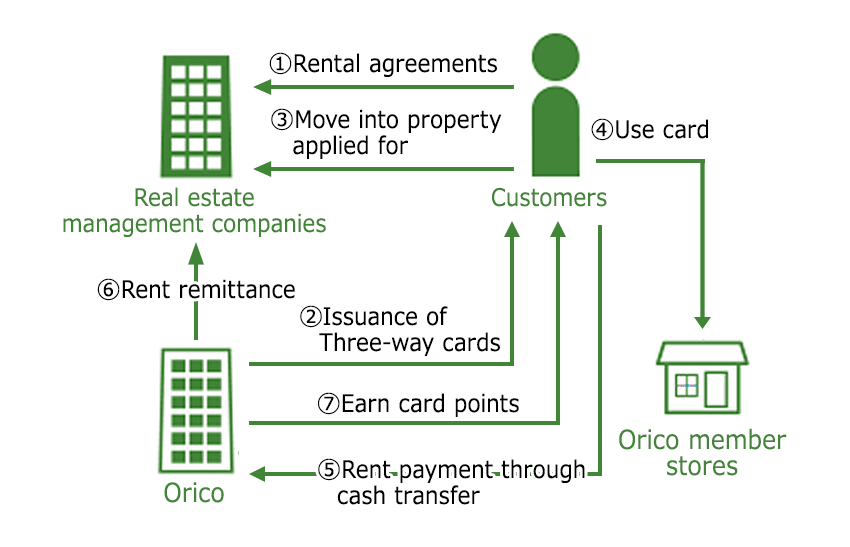 Extra peace of mind for our alliance partners, while rolling out new products in the field of rent collection guarantee
Flex Sumairu
Orico guarantees receipt of monthly rents and other payments (up to a maximum of ¥1 million per month, including administrative expenses, common area charges, and parking lot usage fees), as well as various other expenses incurred in connection with rental agreements in a manner that flexibly addresses needs of real estate management companies.
Sumairu Alpha
Orico guarantees receipt of monthly rents and other payments (up to a maximum of ¥1 million per month, including administrative expenses, common area charges, and parking lot usage fees), as well as fees for renewal of rental agreements for up to 24 months.
Orico will assume expenses incurred in relation to situations where legal action has been taken when a renter is vacating a property.
Orico will undertake removal work and assume such expenses in relation to situations where items have not been removed from a rental unit.
Options for fee collection commensurate with customer lifestyles
Payment acceptance services
Billing payments accepted at some 46,000 convenience stores nationwide
Payment collection (convenience stores)
For alliance partners

Accurate information on cash received is promptly furnished to alliance partners and paperwork is handled reliably, thereby enabling alliance partners to achieve greater administrative efficiency.
Orico is able to handle all administrative work from preparation to delivery of payment slips.

For customers

Customers are able to make payment at any one of the 42,500 major convenience store located nationwide that are under contract with Orico to accept payments.
Our 24-7 payment services make it possible for customers to access means of payment commensurate with their lifestyles.
Examples of such customer payments include those covering subscriptions and other annual fees, university examination fees, tuition for university preparatory schools and orders through mail-order shopping.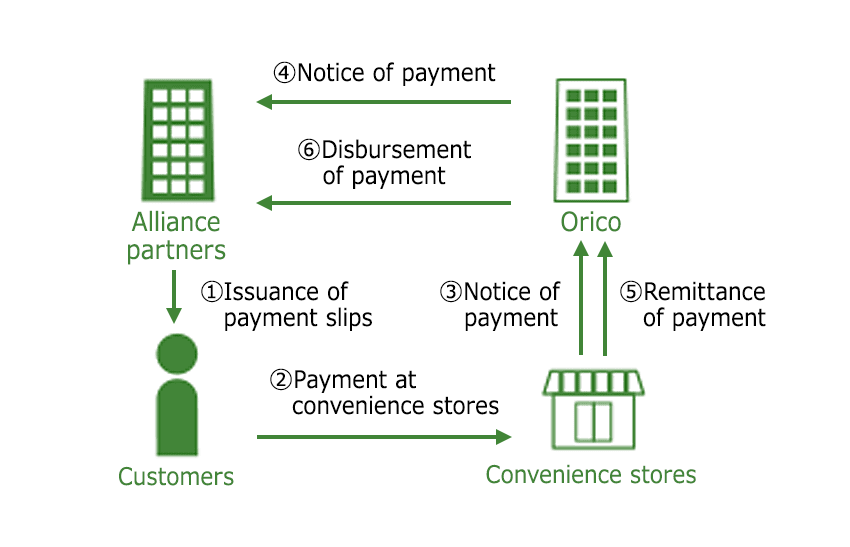 Cash transfers accepted from almost all financial institutions
Payment collection (account transfer)
For alliance partners

Orico promptly handles complex collection procedures on behalf of its alliance partners.
Alliance partners gain low-cost access to efficient payment collection and accounting operations that are accurate and swift.

For customers

Upon having registered the main bank account normally used, customers no longer need to take the time to visit a financial institution or worry about forgetting to remit funds.
Examples of such customer payments include those covering sports and fitness club membership fees, cable television subscription charges, telephone bills, and tuition for private extracurricular schools, lessons and other such activities.